I'm waiting for a flight to London where I'll meet up with my Mum and sister for the weekend. I thought I'd do a quick post showing some of the work I've been doing in Denmark. This story and photos came out of my week spent in Copenhagen.
Safe injection rooms to open in troubled Vesterbro area.
By Bridget Honan.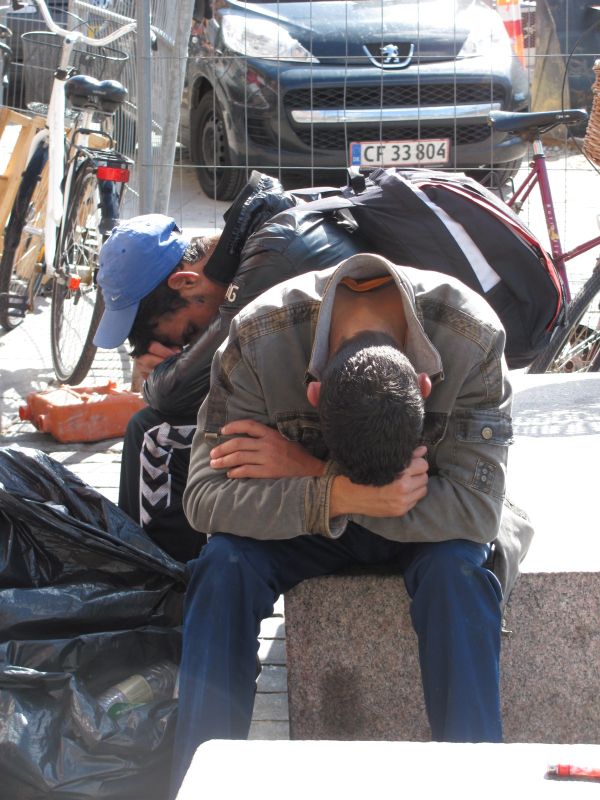 Drug users will soon be able to inject in clean,private rooms as Vesterbro prepares to open their first injection room on the 2nd of October.
"If you are a drug addict it is now allowed to take some drugs and go to a place in Copenhagen to fix,"says police Super Intendent Lars Borg.
The room will be at Halmtorv Square and is a temporary plan whilst the city prepares for permanent rooms to go in Mændenes Hjem (Men's house).
The permanent rooms cost 18 million kr and will be equipped with clean syringes, medical supplies and nurses and social workers available 24-7.
The plans come after the Danish Parliament voted in June in favour of allowing
safe injecting sites.
The law shows a change in mindset from the newly elected centre-left government, which also sees new laws instructing police not to prosecute users in possession of small quantities of drugs.
"Now the politicians are saying, let's accept some legal things that can help to handle the big, big problems," says Lars Borg.
"The most important thing is for us to take care of the dealers, and we are working 24 hours a day to take care of that."
Carsten Egholm of Mændenes Hjem(Men's Home) says safe injecting rooms are important so that the people out on the street can take their drug habits inside.
"People take drugs no matter what. The same people will take the same amount, no matter if they're illegal and no matter how much they cost."
"Not one more addict will come because of a safe injecting room"
But Abdel Malik, who works at the nearby Kaffe Baren doesn't think the injecting rooms will improve Vesterbro.
"I think it's better to help people out of their drug problems, instead of just making rooms where they can use them," he says.
"They used to have one club that was supposed to help people.Now it's become a place where people sell drugs and beat each other because of drugs."
Vesterbro, and in particular the street of Istegade is a notorious problem area for drug use and crime.
In 2010 it topped the City Council's security index of most crime-ridden areas.
Christina Saxil, who works at the local primary school Gasvorksvejens says that a safe injection room might prevent the needles, blood and even feces that are found in the streets near the school.
But she is concerned about completely covering up drug problems.
"I would be worried if the children can't see anything that's happening. It's making them more aware. We can tolerate it. It's showing the children that as human beings, we're not all the same."
Instead, Ms Saxil thinks injecting rooms are important for the addict's sake.
"Children can manage a lot more than we as adults try to say to ourselves."
But Mr Malik is worried about the impact on the children in the area and says the police have become apathetic.
"They can just put 6 police cars on every corner. That's better than doing nothing. Right now they say that they can't do anything, so they
don't use any time for criminals in this street."
Carsten agrees that the police come and go in cycles. He says when the community complains, the police concentrate their resources on cleaning up drug addicts instead of going after the dealers.
Super Intentendent Lars Borg says the police need more resources, but new initiatives like safe injecting rooms are one way to solve the problems.
"If you look at how many people are injured and dying and how many dangers there are for people who live in the area, i think it's
cheaper to try this way than to go the old road."
But it seems most of the community agree there is still a long way to go. "They're still doing something, every day," says newsagent Said Riaz.
Carsten would like to see the government work on the social problems associated with drug addiction. "80% of drug users have a mental problem."
"Getting them cleaned up, and getting some respect for themselves.That would help."